Wednesday Nights
Explore under the beautiful starry skies of the Callaghan Valley at Whistler Olympic Park! On select Wednesdays, take advantage of discounted tickets & rentals and spend time on our well-lit trails or light up your journey on others with a headlamp. When you need a break, stop by the fully-licensed cafe in the Day Lodge and indulge in delicious specials.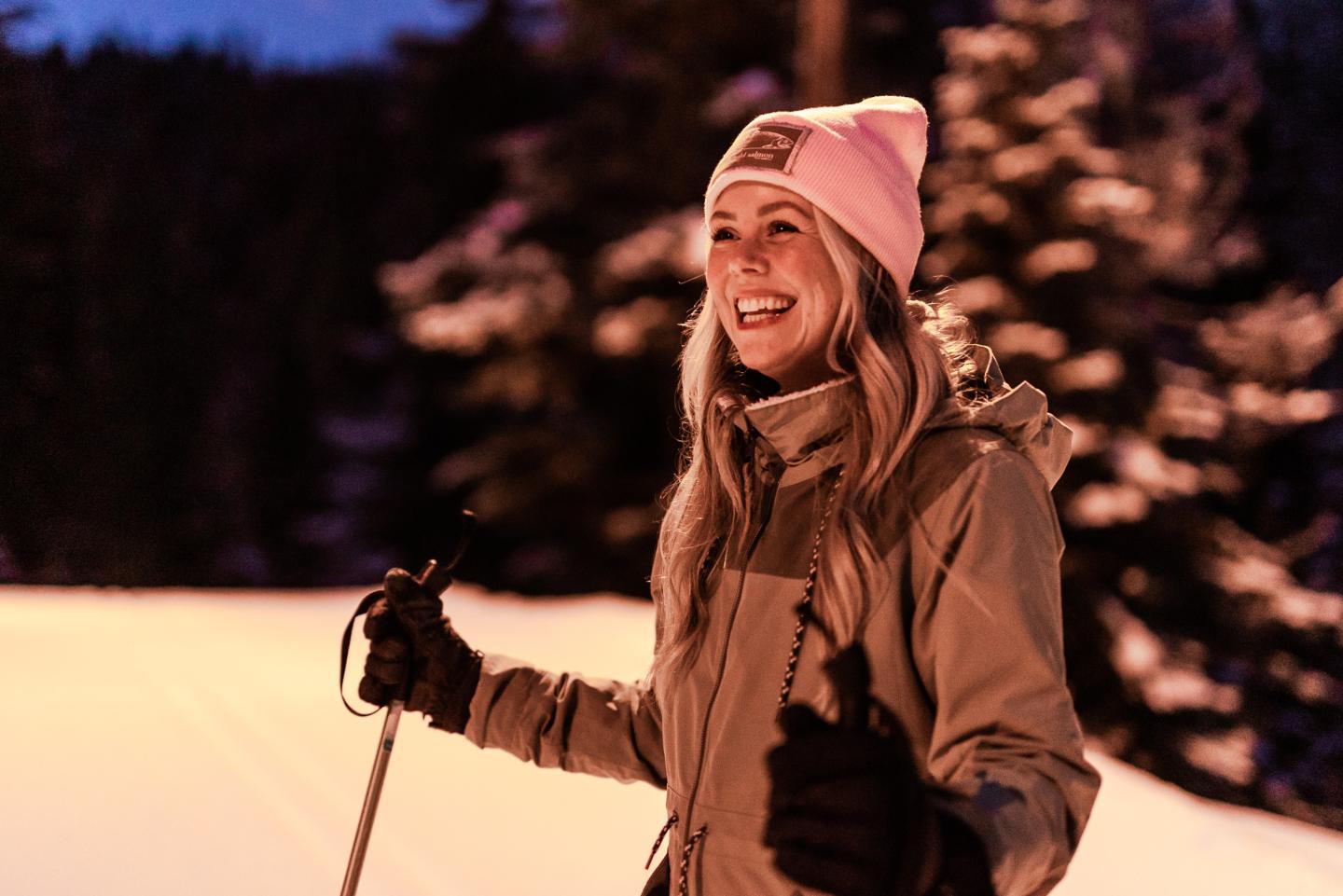 Wednesday Nights - Winter 2023/24
Explore Whistler Olympic Park under the stars from 3:00 pm - 9:00 pm every Wednesday from December 13, 2023 - March 6, 2024.* Day tickets & rentals are discounted to only $10 each!
Due to popularity, there are no walk-in rentals available on Wednesday Nights. Online pre-booking is required for all rentals & limited spots are available. When booking, please choose from one of two timeslots to pick up your equipment. Once you have collected your rentals from the Day Lodge within your booked timeslot, they don't need to be returned until 8:30pm.
Remember to check our conditions page for daily updates on available trails & services ahead of your visit. Book your rentals in advance to secure your spot and make the most of Wednesday Nights at Whistler Olympic Park!
WEDNESDAY NIGHTS PRICING 3:00PM - 9:00PM
 
AGES (6 & UNDER)
AGES (7+)
DAY TICKETS
FREE
$10

CROSS-COUNTRY SKI OR 
SNOWSHOE RENTALS

PICK-UP TIMESLOTS: 3:00PM- 4:45PM, 
5:00PM-6:15PM, OR 6:30PM-7:45PM

$10
$10
*Subject to conditions. Listed prices do not include tax.
Dogs on Wednesday Nights
On Wednesday Nights, you can ski or snowshoe with your dog on our designated dog-friendly trails. Please check our conditions page before your visit to check trail status and other important information.
Please ensure to read & follow our dog skiing & snowshoeing rules at all times. Our dog-friendly trails are not lit-up, so dog owners should bring headlamps and be prepared to ski or snowshoe in the dark. It is also highly recommended that you attach a safety light to your dog's collar so that they stay visible to you and others at all times. Please show respect to our venue & other guests and help keep our trails clean by always picking up after your dog. Waste stations are available in multiple locations on our dog-friendly trails.
Please note, there is no access to our dog-friendly trails from the Day Lodge or Parking Lots 1, 2 or 3. Dog owners must park in our designated Dog Parking for trail access. If you need to access the Day Lodge for rental pick-up, we suggest parking in Lots 1, 2 or 3 before heading to the Dog Parking. Only service dogs are permitted in the Day Lodge at any time, including on the deck areas.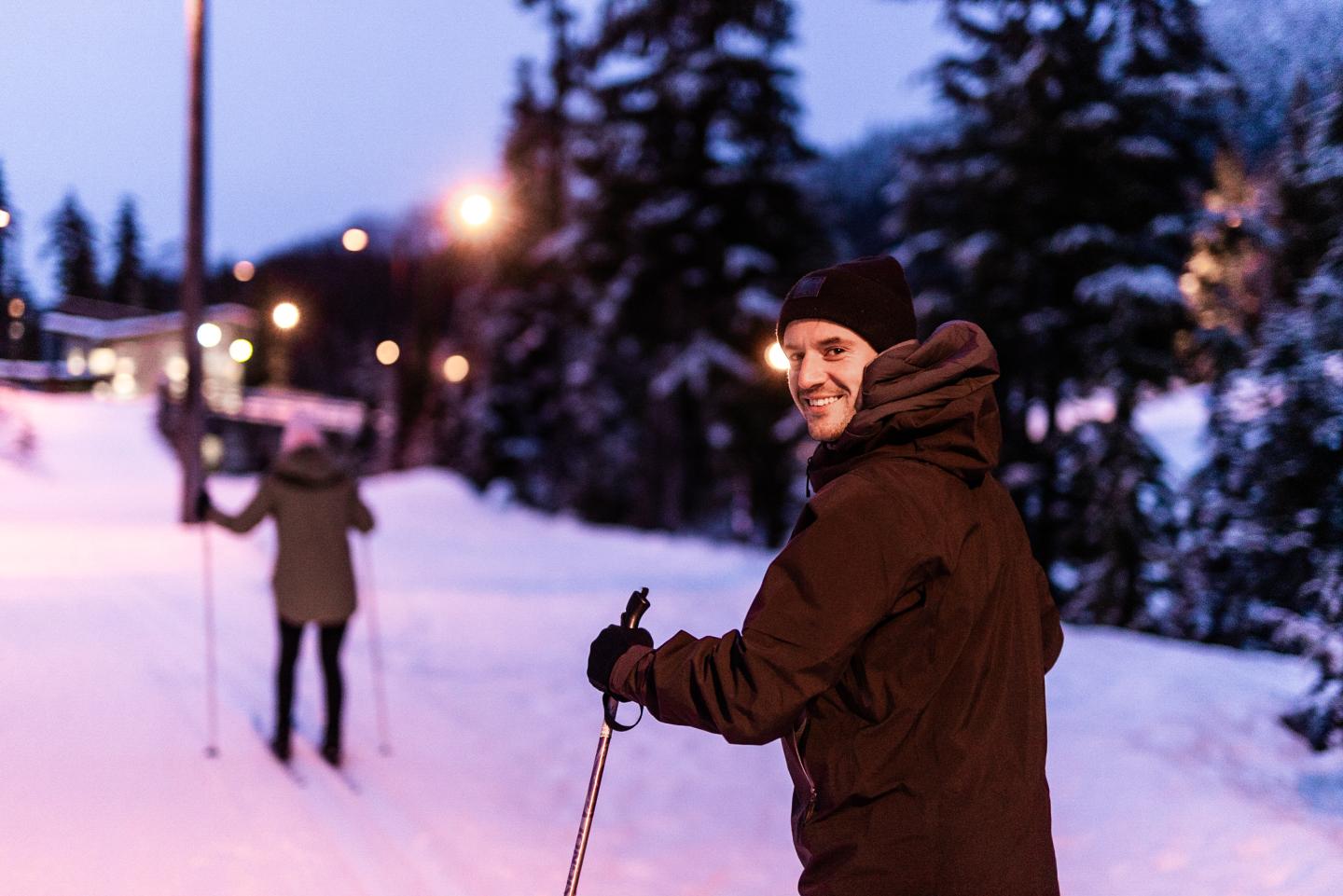 Wednesday Night Terms & Conditions
Wednesday Night Tickets
Ticket is valid for entry on the selected Wednesday from 3:00pm - 9:00pm only. Ticket is non-refundable and non-transferable to any other date. Tickets not used on the selected date are forfeited.
Wednesday Night Rentals
Wednesday Night Rentals are non-refundable and non-transferable. This rental is valid only for the selected date and timeslot. All rentals must remain on Whistler Olympic Park property and be returned to the Rental Shop by 8:30pm. Fees may apply for late returns.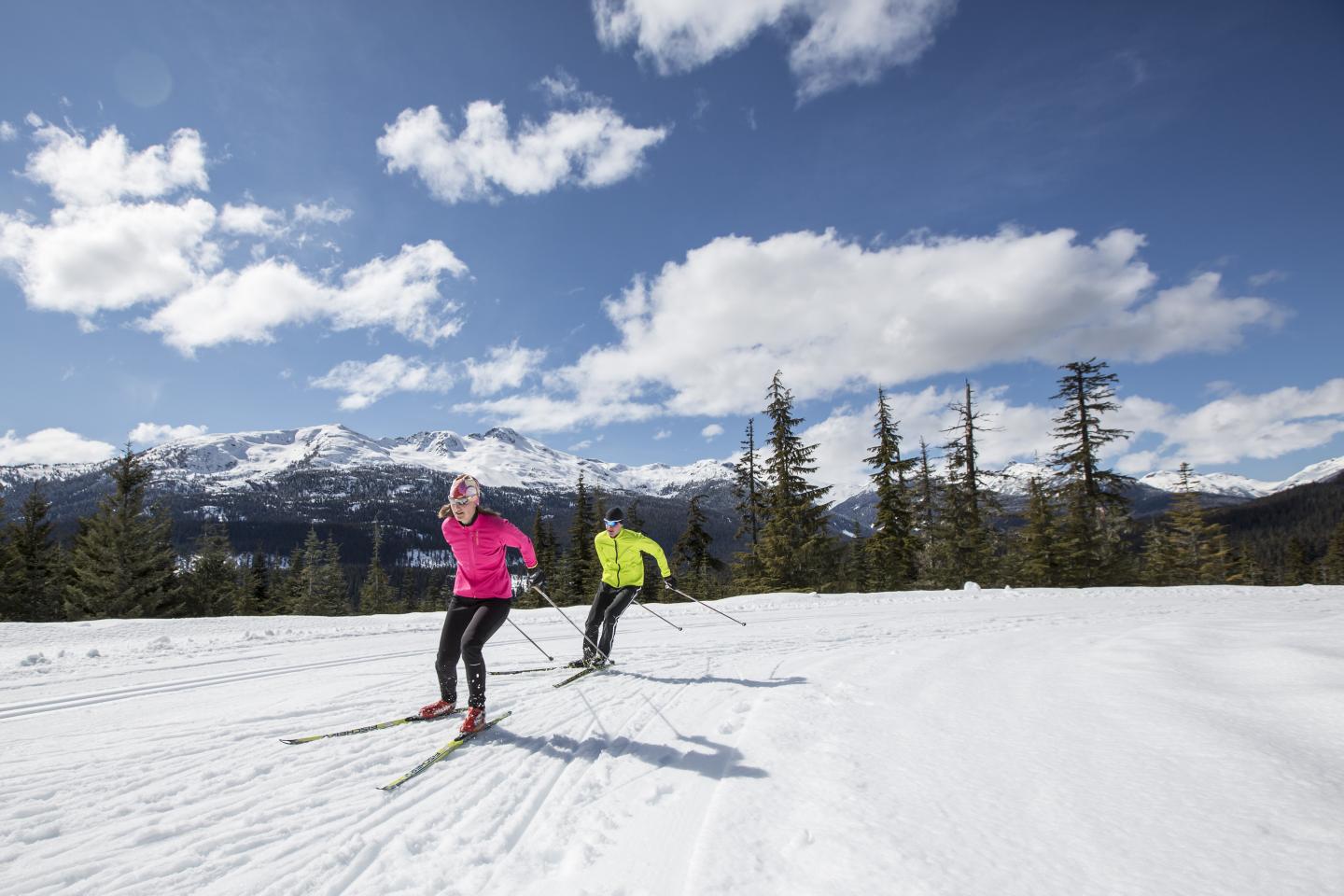 Whistler Olympic Park is proud to be a not-for-profit organization. The revenue from your visit contributes to the success of Nordic athletes & helps maintain our venue for all to enjoy.